Plasma Cleaning Chamber
Quartz chamber size; D104mm x L150mm
Plasmod Plasma System
March's Plasmod, is a tabletop plasma chemistry reactor designed to provide the scientific community with plasma technology at a moderate cost. Plasmod provide such capability with a simple to operate instrument which can perform repeatable plasma chemical reactions. All controls are manual or can be automate with the GCM-200 Gas Control Module.
The Plasmod now comes with a 250 watt, 13.56 MHz, solid state generator, making the Plasmod capable of delivering the highest power/plasma density available.
PLASMOD Specifications
Dimensions: 27.9 cm x 30.5 cm x 43.2 cm
Weight: 16Kg
Chamber Quartz, L 15 cm x D 10.5 cm
RF Generator: Level: 0 - 250 watts Output Frequency: 13.56 MHz
Tuning Variable matching network
Process gas: delivery system to adapt to Required 1/4" Swagelock fittings and operate at 690 – 1034mbar
Facilities: 2 outlets (for GCM.200 and pump).
Exhaust: filter or exhaust line to outside
Power: 115 VAC 50/60 Hz 7 amp line service
Gas Control Modules GCM-200
The GCM-200 is used to control the gas flow in a vacuum chamber, to monitor the chamber. It is used for instance with a Plasmod plasma chemistry reactor to automate processes by pushing a single switch that initiates and automate the entire process. The device controls the flow of two gases and the pressure in the reaction chamber,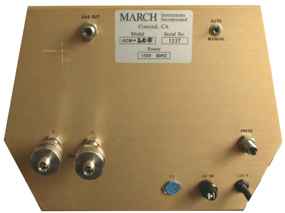 GCM-200 specifications
Digital timer 0-99min 59 sec .
Timer Display Displays elapsed time
Operating Pressure points 0 – 1 torr adjustable set
Gas channel 2
Gas Flow 0 – 65 cc/min of air at Standard Temperature & Pressure
Dimensions 23cm x 29.5cm x 32.5cm
Weight 5.9Kg
Operation
When the GCM-200 is switched on, the needle of the pressure meter comes to 1a tm = 760 Torr.

The flow rate of each gas is defined with the 2 adjustable flowmeters: 0 - 50cc / minute.
when the pressure set by the red dial needle is reached, the gas flow is stopped and start again when the pressure comes down.
The counter is used to define the usage time.
Devices as new, tested.
Quartz chamber clean
Spare parts available (quartz chamber, power tube, etc)
Price including Plasmod, GCM-200, câbles, test protocol, user's manual: Euro 5'000.- +VAT and transport
ask induplan@vtxnet.ch